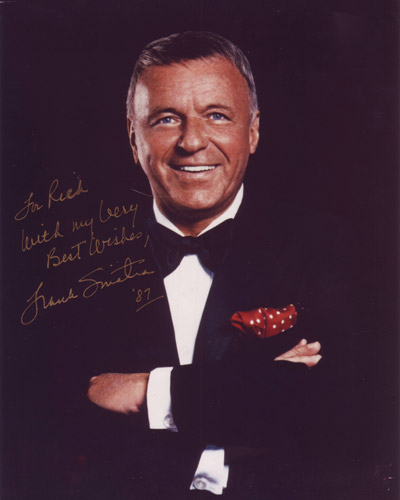 A celebrity's endorsement of a product provides unparalleled exposure to the public and that's why companies pay big bucks to have stars say they support their products. What's even more valuable is having some big name tout a brand without having solicited their backing. That's what Jack Daniel's Tennessee Whiskey received from Frank Sinatra.
 According to Bloomberg News, studies show that Frank resonates with younger men, not just the baby boomers and beyond, making him a top dog even from the grave, emphasizing that timeless cool he cultivated so naturally with other Rat Packers. It reminds me of Marilyn Monroe's infamous and unsolicited perfume endorsement when she was asked what she wore to bed, responding, "Chanel No. 5." A seal of approval from iconic cultural super-figures such as Sinatra or Monroe go a long way in keeping your product timeless. The Voice showed he was fully aware of the impact his backing had when he sang High Hopes for use in the 1960 campaign that got Kennedy elected President.
 The Chairman of the Board was introduced to the whiskey when he asked Jackie Gleason for advice regarding an intoxicant that would get him "smashed," to which Sinatra was told, "Jack Daniel's!" Frank must have been pleased with Gleason's recommendation because, seemingly, from that moment the crooner and the drink were inseparable, a bottle was even buried with him. This proved to be huge for the whiskey makers because the drink had suffered through prohibition and a ban on the manufacture of whiskey during World War II and a little after. It is now the top selling American whiskey in the world.
 Now, Jack Daniel's has introduced a limited edition 90 proof special blend called Sinatra Select. You can be assured that this posthumous endorsement didn't come cheap, furthering validating the claim that Frank is still a powerful and current force in pop culture today. This edition was first released in 2013 in select locations, at around $175 a bottle. That sum gets you the premium blend liquor, packed in a special, coffin shaped box, with a book telling the story of the affair between these two smooth individuals – Jack Daniel's Whiskey and Frank Sinatra. And you will be seeing more and more of this product as they are building toward a global launch in 2015 in celebration of the singer's 100th birthday – something I'll be celebrating with all of you as I perform Frank… A Musical Journey, my greatest and grandest Las Vegas show yet. And, yes, I was one of the first in line in Vegas to purchase a bottle for myself.