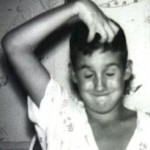 Birthdays are grammatical pauses in your story, your life – a full-stop reflection on what you've accomplished and where you are going. Each decade is an exclamation point.   I've made it a point to make certain each of these earned milestones is deserving of that most emphatic of the punctuation marks because an exclamation point in a sentence that hasn't earned one stands out like a sore thumb! See. So, as with every aspect of my life, at least with my adult years, I've wanted to earn each of these marks.
For my twentieth birthday, I took to the water in a big way – I joined the Navy. Although not a conscious factor, Sinatra played a seaman in Anchors Aweigh with Gene Kelly. Frank was unable to take part in active duty during World War II because of a perforated eardrum, but took part in USO tours and did many shows on Armed Forces Radio to do his part. I've always had such tremendous respect for our troops.
My third decade saw me really rise to the occasion – I celebrated in a hot air balloon. Taking to the air symbolizes me soaring to stardom. Fly Me to the Moon! Okay, perhaps I didn't take it that far, but it was certainly a lot of fun.
I came down to earth on my fortieth birthday – skydiving from 10,000 feet over Boulder City, Nevada. What a rush! Pushing your limits is important, not only to grow as an artist, but for personal growth as well. Calculated risks make certain you aren't playing it safe and falling behind in your life.
 At four score and ten I put the pedal to the metal – buckling in at the Las Vegas Speedway for the Richard Petty Driving Experience. My certificate says my top speed was 124 mph, but it felt every bit as much as 125. I found a neat article recently on the cars of Frank Sinatra. It seems he was more known for his airplanes, which suits his larger-than-life persona perfectly, but the cars he drove are interesting too.
 This brings me to the present day. As in my 20s, I'm returning to the sea, with my beautiful Leslie, to usher in my 60s – we're headed on a cruise, my first purely as a passenger.
 By decade, I've gone from sea to the air, plummeting to earth to speed over the desert and now back to sea. And my next big exclamation point is my biggest Las Vegas show yet, Frank … A Musical Journey. I'm certain you'll bring exclamation points into your life too, just keep moving forward!