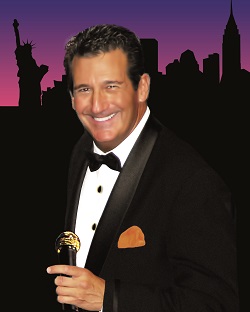 Frank … A Musical Journey is a Las Vegas show unlike any other, anywhere – weaving iconic tunes from the American Songbook and rich narrative in a way that illustrates The Voice's life, the ups and the downs, like a classic portrait, but rich in visual and auditory texture. It's designed to be the definitive Sinatra show and I'm confident you'll agree that it delivers.
 At the onset of the journey, after I've entered the stage and set the mood, establishing Frank as the guy that set the bobby soxers' hearts aflutter, we travel through the war years with Frank forced to serve from home because of a perforated eardrum.
 He marries Nancy and leaves The Harry James Orchestra for Tommy Dorsey, signing a contract with the band leader that would become legend, often referred to with the worst recording contracts of all time, one that would give Dorsey 43 percent of any of Frank's earnings for life. How Sinatra got out of that contract has become so interlaced with differing stories, we're unlikely to ever be certain of the details, but it took him much time and effort.
 It was during this period that some of his most important behind-the-scenes work came to fruition – his efforts to combat racism. Himself of Italian-American descent, Sinatra would visit racially charged neighborhoods, telling them, "No kid is born and two days later says: 'I hate Jews or colored people. He's got to be taught,'" among other things. He earned an honorary Academy Award for his work in the starring role in the 1945 short film The House I Live In, where he teaches a group of boys that we are all American and strikes a hit with a song of the same name.
 This work would plant the seeds for the stands he took in Las Vegas, refusing to patronize casinos that discriminated against blacks, something few other singers of any stature would risk doing at that time. I honestly cannot express just how proud I am to be able to represent a man who accomplished so much.
 This is truly an amazing life to chronicle, so watch for the next instalment of our "Journey" blog series. And, while you're waiting, have a gander at the two-minute demo. Then check out Frank with The Harry James Orchestra singing All or Nothing at All. I can't wait for you to hear my version.