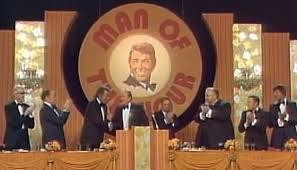 The show was special for many reasons; older folks could enjoy experiencing something familiar as many of the younger generation were being introduced to a classic comedy style, while learning about legends.  Showing how timeless this program was, a reader was quoted in the Chicago Tribune referencing a recent Republican Presidential candidate debate saying, "It was funnier than any "Dean Martin Celebrity Roast" I ever saw."
Don Rickles took over the roll of Roastmaster for Dino's show and Orson Welles, John Wayne, Jimmy Stewart, and Gene Kelly were just a few of the icons that joined fellow Rat Packers Joey Bishop and Angie Dickinson to honor him – and make no mistake, being on the "wrong" end of all those jokes was, indeed, an honor.
The Frank Sinatra roast was another huge episode.  Ronald Reagan headlined that star-studded affair.  Don Rickles was there too.  When Rickles was on Jimmy Kimmel's late night show last October, he spoke about how great Martin was to work with and about Ol' Blue Eyes he said, "Frank Sinatra was the greatest in the world, he really was."
My friend, Rich Little holds the distinction along with Nipsey Russell of appearing on the most shows.  As amazing an experience that it undoubtedly was to perform with these superstars, Little shared that it could be a bit unsettling, saying, "When I got up there I tried to appear cool and nonchalant, but inside I was dying. It was terrifying."
It's nice to reminisce, but these are truly memories that will last forever.  For me, watching a Dean Martin Celebrity Roast is instructional – why didn't they teach us that learning could be fun in school?