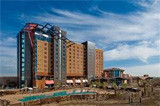 This will be the 13th time that Rick Michel has entertained and donated his time to raise money for Michael Finney's favorite charities.
It will be two nights of comedians, magicians and music on Friday and Saturday night at the Wild Horse Pass Hotel and Casino.
Don't miss your opportunity to some of the funniest people in show business and enjoy some of the best chefs in America as they cook up a night of some of the dishes you would ever want to eat.
For more information on golfing, eating or being entertained for this annual event please visit:
Michael Finney's web site at: www.MichaelFinney.com
See ya there...
Wild Horse Pass Hotel & Casino
Friday, July 27, 2012 to Sunday, July 29, 2012
5040 Wild Horse Pass Boulevard
Chandler, AZ 85226
800-946-4452