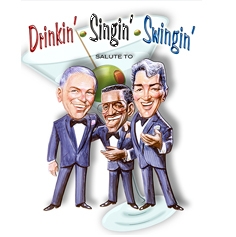 Ryan Baker as Frank Sinatra - Doug Starks as Sammy Davis Jr. - Rick Michel as Dean Martin.
With all of the original charts and musicians that made Frank - Sammy - Dean the "Kings of Cool".
The All Star Band includes the likes of Tommy Porrello on trumpet, Michael "Gooch" Gurciullo on trumpet, Brace Phillips on Bass, Kevin Stout on trombone, Jay Rasmussen saxophone/flute, Patruck Hogan on piano and Angelo Stokes on drums.
This is one "Sold Out" Thanksgiving week you won't want to miss as we will even be singing some Christmas songs to get you into the spirit of the season.
See ya there.