Ryan Baker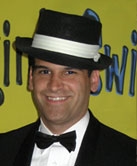 One of the hottest young talents working in Las Vegas today, Ryan Baker has been appearing all over town in varying roles, and in several different types of venues. Seeing and hearing him perform, one would probably think he has been doing it much longer than he actually has.
Originally from Long Island, NY, Ryan moved to Las Vegas in October 2003, where he began performing at weddings and corporate events at properties such as the Four Seasons, Bellagio, Caesar's Palace, Green Valley Ranch, Ritz-Carlton, Wynn and the Red Rock Hotel & Resort, among others. His performances at these events ranged from Frank Sinatra 'sound-alike' to impersonating the man himself.
In the fall of 2004, Ryan helped create and starred as Frank Sinatra in 'The New Rat Pack & Friends Dinner Show,' which ran for several months at Benedict's Garden Bistro in Summerlin, and which later moved to Joey Bistro. Baker has since worked with several Rat Pack groups at various private and corporate events.
Besides tribute artist/impersonator work, Ryan is also an accomplished lounge singer, with a repertoire of hundreds of songs, ranging from Sinatra favorites to jazz classics to standards written by the great American songwriters of the 20th century. He performed regularly at Joey Bistro in 2004, and later did a three-month engagement at the Artisan Hotel & Spa. Whether it be with just a piano player, a small- or large-piece band, or background tracks, Ryan has the versatility and range to work in any musical environment.
Additionally, Ryan has recorded over a dozen different radio commercial jingles, mostly for sponsors of Clear Channel Communications affiliates, which currently play all over the country in markets from Los Angeles, CA to Charleston, SC. His other credits include singing backup for Clint Holmes on more than one occasion, such as he did at Roy Horn's 60th birthday celebration at the Mirage in late 2004. Baker is also currently working on an album, featuring his own takes on some of his favorite jazz standards.
Later, in 2005, Ryan became one of the stars of the 'Shades of Sinatra' show at the Stirling Club lounge in the Turnberry Estates, in which he, along with Carmine Mandia and Larry Liso, put on a musical tribute to the music that defined Frank Sinatra's career. After finding a dedicated following at venues like the Bootlegger Bistro, and with the addition of vocal powerhouse Lisa Smith, the show made its debut at the Suncoast Hotel & Casino in July of 2007, to sell-out crowds and rave reviews. The show was originally the brainchild of entertainer Kelly Clinton, who now produces the show along with Ed Mathews, and the music is arranged and directed by the gifted Ned Mills. 'Shades of Sinatra' was also the recipient of the Entertainment Consumers' Exchange 'Tribute Show of the Year' award in 2007. In October 2007, the 'Shades' had the privilege of opening for the one and only Don Rickles at the Golden Nugget casino.
While still considered a young entertainer, it is clear that Ryan Baker has an 'old soul' and a deep appreciation for the wonderful music created by legendary entertainers well before he was born. Go see him perform, and you can watch him pay tribute to and bring to life the timeless sounds of that terrific era in music.