Kenny Jones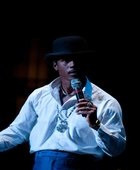 Kenny Jones is a gifted singer, songwriter, musician and recording artist…..One Dynamic Entertainer. He has received raved reviews and standing ovations worldwide.
Born and raised in Atchison, KS his love of music began at the tender age of twelve. Kenny recalls his first stage appearance with a local group called The Jive Five, singing and dancing to the music of James Brown.
As a teenager Kenny became the front man for a popular R&B band called Soul Review.
The House of Joy where he cut his first gospel album and released his first single called Peanut Butter and Jelly and in 1989 and 1990 Kenny was voted The Best Male Vocalist of the Year by the Gospel Music Workshop of Denver.
One of his career highlights was performing at the opening of The Hard Rock Café in Shanghai, China, then; Kenny was called to the Northwest when another opportunity to once again become the front man and lead singer for another hot R&B band called, Groove City. Groove City performed mainly in the Seattle/Spokane area until the band moved to Las Vegas in 2001 to seek other musical opportunities.
Kenny's move to 'The Entertainment Capital" of the World" Las Vegas, Nevada  has opened doors for him to travel and appear in major showrooms, casinos, theaters and private country clubs throughout the world.
Kenny has also made several radio and Television appearances.
Kenny is now appearing with Producer Rick Michel in his show, "Drinkin' – Singin' – Swinigin' paying tribute to the ultimate entertainer Mr. Showmanship, Sammy Davis, Jr.