Andy DiMino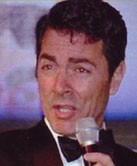 ANDY DIMINO - is a natural when it comes to bringing ol' Dino back to life.
DiMino has been entertaining audiences for practically his entire life. Growing up in Southern California, his high school rock bands opened Hollywood club shows for groups like The Doors and Iron Butterfly. Playing the ski circuit in Colorado led to an album with RCA as a founding member and songwriter for the band First Fire, and later tour dates as keyboard player/singer with Mary MacGregor ('Torn Between Two Lovers').
However, the road is a tough place to raise a family, and eventually DiMino decided to leave the rock club circuit to stay close to home and raise his son. He started focusing on songwriting, working as a solo guitarist/ singer in restaurants and pubs. A first place prize on TV's 'Gong Show' planted the seed for variety. Eventually, DiMino wanted to expand his career, so he set out for Las Vegas in 1990 with the hopes of finding something different that would allow him to continue working with talented people while still singing great songs. Once in Las Vegas, DiMino quickly added acting and improv to his credits, appearing in TV commercials, a 'Tonight Show' comedy sketch with Jay Leno and a bit part in a Kenny Rogers TV movie. DiMino also found work as Las Vegas legend Buddy Greco's production manager, working his big band dance/live radio shows at the Flamingo. It was here that DiMino got some of his earliest Vegas singing experiences, when Greco arranged a big band vocal chart for DiMino to sing on stage with his band.
With his love for music and comedy of the Rat Pack generation, his close physical resemblance to Dean Martin and an Italian background (DiMino's father and all four grandparents were from Sicily), it looks like Andy DiMino has truly found his calling.