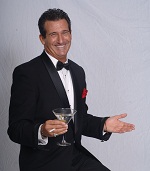 It's been a tough week for fans of comedy, television, movies, and just plain genuinely good people. The death of any living-legend is heartbreaking, but to lose someone who had so much more to give the world even though he'd already given so much will put an ache in the most hardened of hearts. Like the rest of the world, I will miss Robin Williams.
 My connection to Robin – and we all feel some sort of connection – is through Jonathan Winters. It's been barely more than a year since we said goodbye to the man whose comedy played such a large part in forming my abilities as a comedian and he was the reason Williams got into comedy too. In a New York Times article, Williams described the effect Winters had on his career, first seeing him make his stoic father bust a gut via television and stating, "I was hooked."
 Here's what Robin tweeted after Winters' death, "First he was my idol, then he was my mentor and amazing friend.   I'll miss him huge. He was my Comedy Buddha. Long live the Buddha."
 Enjoy this video, it's one I had to post to my Facebook page, and listen to Robin open by saying, "Jonathan Winters is the reason I became a comedian."
 Winters was an unpredictable master of improvisation and had a style Williams clearly liked, becoming an amped-up, manic version of his mentor in his own act. I like Winters' skills too and watching him is like a lesson in how to be funny. His timing, the facial and body movements, the voice, the material, and the overall ability to control a stage and direct a crowd right where you want to take them made him a walking textbook on how to have a career in comedy.
 Jonathan Winters inspired a whole new generation of comedians, with Robin Williams front and center who has already undoubtedly inspired his own troop, and now all we can do is watch as further generations of funny men and women add Robin to the list of legends responsible for their career choices who have sadly left our realm.