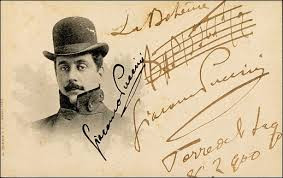 When Frank Sinatra was once on the Tonight Show, Johnny Carson joked asking him, "When you're in a romantic mood and you're trying to make out, whose records do you put on?"  Of course Johnny was referring to how Ol' Blue Eyes' voice could make a lady swoon, but it begs the question, What music did Frank Sinatra listen to?
While someone like Bing Crosby, who Frank idolized as a boy, would be the obvious choice, it turns out to be something rather different, but not entirely surprising when you think about it: Italian opera.  The Voice's favorite composers were the big two when considering operatic music from Sinatra's homeland, Giuseppe Verdi and Giacomo Puccini.
Verdi started life poor and worked his way up through his musical talents.  Although his biographer states in his introduction that from what he's learned about his subject, "I do not very much like the man Verdi," but he admires his integrity.  Verdi may have had good reason to show some bitterness, having had his wife and two children die while he was still quite young.  Given Sinatra's personal troubles and emotiveness, perhaps he could identify a little or sense something in the music.
Puccini was born into a musical dynasty, so it would seem his occupation was essentially predetermined, and he did not disappoint.  Still, his life wasn't without turmoil and hardships.  He suffered serious injury in a 1903 car accident and his love-life caused many problems as he took part in a number of extramarital affairs.  Frank may have understood a thing to two about these.
Sinatra was a very impassioned and sentimental man; it makes perfect sense that he would be drawn to a genre as theatrical and almost over-the-top in its portrayal of human emotion as opera.  I have no difficulty picturing Frank seated in a big chair, Jack Daniel's whiskey in hand, with the music turned up while La Boheme or Aida regaled him.