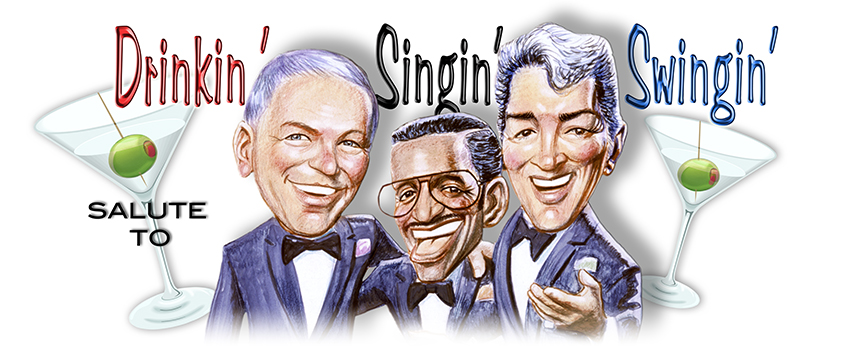 The Swingin' Sixties marked the peak of fame for The Rat Pack, as they surprised and delighted audiences on the silver screen and on stage. The members of the legendary Rat Pack fluctuated throughout the years, but the core celebrities included Frank Sinatra, Sammy Davis Jr., Dean Martin, Joey Bishop, and Peter Lawford. This group knew how to party, wearing chic fedoras with expertly cut suits around the Las Vegas strip, joining in on impromptu concerts for thrilled audiences. Visiting and rotating members included knockout actresses Marilyn Monroe, Shirley MacLaine, Juliet Prowse and Angie Dickson.
The Rat Pack appeared in over twenty films together between 1947 and 1984, with Frank Sinatra contributing his dapper looks and cavalier, bad-boy attitude to most of these projects. Films like Ocean's 11 are iconic, even today, featuring the close-knit group as they plan a major bank heist. The 1930s gangster lifestyle inspired Robin and the 7 Hoods, a musical comedy that brought Bing Crosby, Frank Sinatra, and Sammy Davis Jr. together to sing in speakeasies.
This Vegas-based bunch would go on to inspire generations of entertainment, with Rat Pack slang, attitudes, fashions, and raucous behavior appearing in current media like The Sopranos, James Bond, and the Ocean's 11 reboot. Throwbacks are seen in men's fashion everyday, with celebrity photos featuring the distinct suits and fedoras of old Rat Pack days. In 1998, HBO released a TV movie called The Rat Pack to explore the life and times of these men, delving into the social and political issues they faced.
Rick Michel pays homage to many of these skilled performers through his interpretations of their greatest hits, performed for modern-day audiences at venues around the world. Shows like Frank and Dean Together Again; Drinkin', Singin', Swingin'; and Sinatra Forever bring these icons to life and inspire new generations of Rat Pack fanatics. Make sure to keep an eye on Rick's upcoming shows page to see when he'll hit the stage with Rat Pack classics!