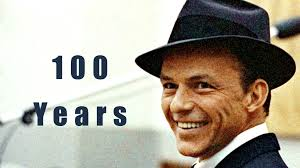 Like so many, I'm always celebrating Frank Sinatra, but this year the whole world is honoring Ol' Blue Eyes as the 100th birthday celebrations continue. In fact, as Frank's actual birth date approaches, the festivities are becoming even more frequent and grander. First, I'll share a few recent announcements sure to blow your socks off, and then I'll tell you where I'll be on that big day.
 October 17th was definitely a day I wish I had been able to be in New York. Symphony Space Presents: Frank Sinatra at 100 was a blockbuster of a show over the course of three, three hour sets featuring a selection of performances, including some current Broadway stars, adding up to a total of 100 of The Voice's tunes. Even long-time fan Tony Danza was on the list to honor his idol. What a show!
 Now, here's something for absolutely everyone; Sinatra 100 – An All-Star GRAMMY Concert is going to be shown on CBS December 6th. It's being taped live here at the Wynn in Las Vegas and will feature superstars such as Tony Bennett, Alicia Keys, John Legend, Usher, Carrie Underwood, Garth Brooks, and Adam Levine. Recording Academy CEO Neil Portnow said of Sinatra, "Today, he continues to gain popularity for his classic sound and signature style. It's only fitting that we join the global celebration in honor of his 100th birthday." I can't wait.
 Watch for a very special set of songs to be released November 20th, called Frank Sinatra: A Voice On Air (1935-1955). It will feature 100 recordings of Sinatra performances, with 91 of them previously unreleased. It will span from his first radio appearance, with the Hoboken Four, to the last episode of The Frank Sinatra Show. I smell an early Christmas gift with this one.
 Where will I be when Frank officially hits the century mark? I'm going to be fresh off a December 11th show in Hanover, PA at the Eichelberger Performing Arts Center ready to ring in his December 12th birthday at the Santander Performing Arts Center in Reading, PA. I get chills just thinking about what a special show this will be, knowing that I'll be on stage helping the world celebrate as Frank turns 100!