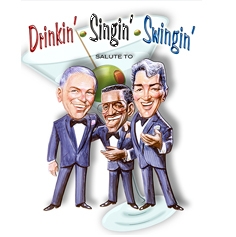 The 2014 Golden Globe Awards are coming up Sunday, providing a fine distraction from playoff football (go Chargers and Seahawks!). The awards can be viewed as a bit of a precursor to the Academy Awards, only a little more laid back and raucous – and guess what, you can thank the Rat Pack for the fun.
 The awards were first presented in 1944 by the Hollywood Foreign Press Association to honor the best in film and television and were traditionally presented by journalists, but in 1958, the year Frank Sinatra won a Golden Globe for Best Motion Picture Actor in Pal Joey, The Voice, Dean Martin and Sammy Davis Jr. must have been a little disappointed with the evening's entertainment because they took over the stage, complete with their trademark high-balls and cigarettes in hand, and hijacked the show. Now they call that hosting. Apparently the audience loved it enough to invite them back the next year as official hosts and, of course, since that moment celebrities, for the better of entertainment, have controlled the show.
 The three were no strangers to the Golden Globe Awards. Dean Martin was nominated five times, winning once in 1967 as Best Male TV Star for the Dean Martin Show; Sammy Davis Jr. was nominated once; and Sinatra won three after being nominated four times – not a bad batting average. His other Golden Globes were for Best Supporting Actor in From Here to Eternity in 1954 and in 1971 he was given the prestigious Cecil B. DeMille Award for outstanding contributions to the world of entertainment. I should note that Shirley MacLaine was presented with this award in 1998.
 A look at this year's nominees shows some incredible talent, which makes it all the more amazing to me that someone who wasn't strictly an actor could dominate the scene like Frank did – remember, these awards are for film or television, they have nothing to do with singing.
 It truly is talent like this that brings out the respect I have for these performers and makes me proud of what I do, which I hope projects through each of my Las Vegas shows.