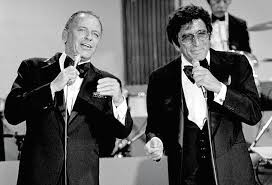 "For my money, Tony Bennett is the best singer in the business."  That's pretty high praise coming from anyone, but when the speaker is Frank Sinatra, people pay attention.  Bennett turned 90 years old in August.  That's not a typo, he turned 90, yet he's going at a pace that would give many artists a breakdown (you listening, Kanye?).  Let's honor the man that The Voice held in such high regard and look at what he's doing this coming month.
Bennett held Sinatra in very high regard; there are countless interviews with him talking about what Ol' Blue Eyes meant to him, especially around Frank's 100th birthday last year, but I think the fact that he is the founder of the Frank Sinatra School of the Arts in New York City says everything about how much he thought of him.
Just this month, Bennett released a book, Just Getting Started, a fitting title for someone who doesn't seem to be even thinking about slowing down, in which he speaks about the people who inspire him.  I'm sure it must be an entertaining and heartfelt read.
The showstopper for Bennett is a "concert extravaganza" that was recorded into an album, Tony Bennett Celebrates 90 to be released December 16th, and an NBC television special that will air  in prime time on December 20th.  In addition to Bennett singing, there are performances by names such as Lady Gaga, Elton John, Billy Joel, Stevie Wonder, and Michael Bublé.
On top of all this, he's touring.  According to his website, he has seven shows scheduled for December.
Then, as icing on the cake, he has his painting.  Bennett is a very accomplished artist, not unlike Frank, who signs his work using his birth surname, Benedetto.
Tony Bennett has become the inspiration he must have found with Sinatra.  Stay tuned, I'll have a few things up my sleeve on my 90th.