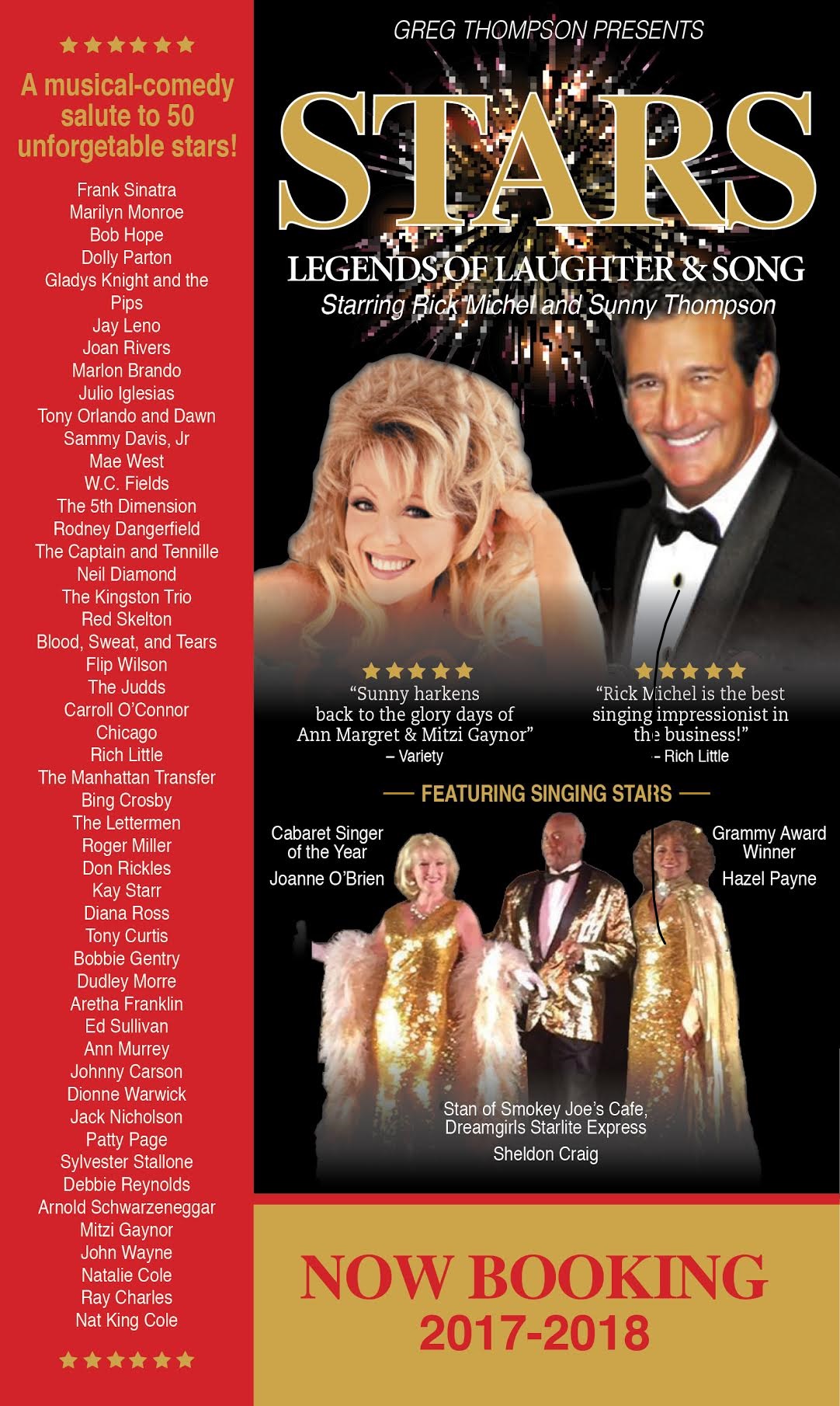 Stars: Legends of Laughter and Song
 How does the saying go?  "Time flies when you're having fun."  Clichés exist for a reason: they're true.  We're already passing the half-way point with our run of the Sammy's Showroom 50th Anniversary Show at Harrah's Reno and it's not only been a blast, the response has been so overwhelmingly positive that our promoter, Greg Thompson Productions, is going to be marketing us at the APAP (Association of Performing Arts Presenters) conference in New York City.
 Greg's shows are legendary; he's put on events literally all over the world and his talent for recognizing successful productions is now innate, so his belief that we should pull together to perform Stars: Legends of Laughter and Song is a huge boost to the ego.  And I have to admit, he's absolutely correct.  The abilities of my costars blow me away each night and experiencing the response from the audience lets me know we're doing something right.
 Stars: Legends of Laughter and Song is set up as a musical-comedy salute to 50 unforgettable stars - names such as Frank Sinatra, Marilyn Monroe, Bob Hope, Dolly Parton, Gladys Knight, Diana Ross, Debbie Reynolds, and Ray Charles.  The show is set to entertain with unforgettable tunes and side-splitting laughs.
 Sunny Thompson's ability to channel her Marilyn is widely acclaimed and it's no wonder her shows have been such a success, she can sing and she's funny - she's a natural on the stage and makes it so it's difficult to believe you haven't just experienced the real Marilyn.  Plus, if the applause we received together on stage at Las Vegas' M Resort and Casino in 2013 was any measure, the audience will be happy to see Sinatra and Monroe back again.
 The range in the talent of Joanne O'Brien is incredible.  It doesn't matter what she's singing, her listeners are always wowed and the reviews from her CDs shine.  Add Sheldon Craig, who has a voice smoother than butter, and Hazel Payne, who can knock you over with her vocals, to the act and it's truly a recipe for success.
 Can you tell I'm excited?! It's a great group of performers and when you come together for something as special as what we've been experiencing each night at Sammy's Showroom, you want to the show to continue, and now it can.