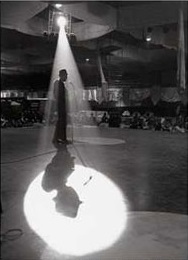 While an Academy Award is a marvelous indicator of great acting, another way to measure the talent of a particular artist is by how good they make the people with which they work. Frank Sinatra was awarded three Academy Awards during his acting career, but a quick look at his female-partners-in-crime shows he was able to help them shine too.
Shelley Winters starred with "The Voice" in "Meet Danny Wilson," a pleasant '50s film essentially centered around Frank's smooth singing chops, but it gave Sinatra work during his famous career slump and it gave Winters a chance to play the lead with a dynamic leading man. The experience and confidence would be a boon toward the work that would garner her two Academy Awards for Best Actress in a Supporting Role later in her career for "The Diary of Anne Frank" and "A Patch of Blue" respectively.
Grace Kelly seemed destined for stardom right out of the gate. She won the Academy Award for Best Actress in 1954's "The Country Girl," but didn't work with Frank until her last film, the classic "High Society" in 1956. We are all aware of the fantastic work she did and of the chemistry between her and Sinatra, but there weren't any Academy Award nominations to for them amid a mix-up that placed the movie as a nominee in a category in which it wasn't eligible. Or, perhaps it was because it was so unbelievable that Kelly would choose Bing Crosby over Frank Sinatra!
Her performance in the 1958 film, "Some Came Running" earned Shirley MacLaine her first of many Academy Award nominations. Not only did MacLaine shine working with Frank Sinatra and fellow Rat Packer Dean Martin, she even credited Frank for her Oscar nomination because he insisted on having the ending of the film changed. Of course she would go on to win a Best Actress Academy Award for "Terms of Endearment" and become the legend she is today.
This stuff is important because it has taught me that when I work with fellow performers in shows such as my Drinkin' – Singin' – Swingin' or Frank and Dean Together Again you need to do more than let yourself shine, you must help everyone onstage to be their best too.