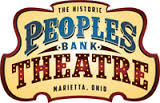 Experiencing each of the varied venues is one of the perks about travelling for performances nationally and internationally; each theater, no matter how storied their background, is different and unique in its tales, often offering up a condensed trip through the annals of its town's history.  This is especially true with the Peoples Bank Theater in Marietta, Ohio where I'll be presenting Sinatra Forever on November 12, 2016.
Like so many old-time American theaters, this one started as a Vaudeville House, known as the Hippodrome, in the early 20th century, complete with a large Broadway play-accommodating stage, a giant silver screen, many large dressing rooms, an orchestra pit, seating for 1200, and a giant boiler to provide heat in the winter and cooling via cold water in the summer.  It truly was state of the art and hosted all the big shows and films.
As with any capable venue, it had to adapt over the years and the theater did just that.  Still, keeping up is difficult and expensive and the theater had to close in 1985, but in January of this year it reopened after being renovated to its original splendor of nearly 100 years ago.
Among the many big names that are listed as having performed here, the one that stands out for me is, naturally, Frank Sinatra.  I can't wait to stand on stage later this month to give everyone a taste of what a performance from Ol' Blue Eyes must have felt like, and I'll be witnessing another special experience of playing another historic venue that's been so important  and unique to its town, yet a part of the American story that's played out repeatedly across this country as the decades pass.
If you're in the area, I hope you'll come out and see the show!