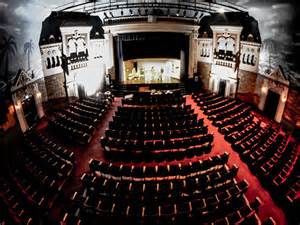 The Alhambra originally opened in 1928 and, with its Spanish-Moorish stylings inspirationally drawn from the palace in Spain of the same name, was proclaimed the, "most beautiful and practical theater in America."  The first production to grace its interior was, suitably, the silent film, Don Juan with John Barrymore.  The Alhambra was recently restored to its original greatness by the Pennyroyal Arts Council.
Hopkinsville is a great place to put on a showing of Sinatra Forever.  The city still exhibits the stoicism from the time it was named of Samuel Hopkins who served in the Revolutionary War and was on the staff of General Washington, eventually being elected to Congress, yet Hoptown possesses a touch of the spirit of the original "Sin City" that was just to the north in Kentucky – Newport.  Yes, it's perfect for a Rat Pack Las Vegas show.
I know they have some very special restaurants, so it will be difficult to choose where to dine, but I like it when I really can't make a wrong choice.  Let me know if you have any particular recommendations – if you've been following my social media posts, you'll know I love to eat.
If possible, I hope you'll join me in the ivy and roses that adorn the windows, the Arabian Nights feel from the murals, and the serpentine columns with their show of strength for a night of Sinatra that's sure to be unforgettable.