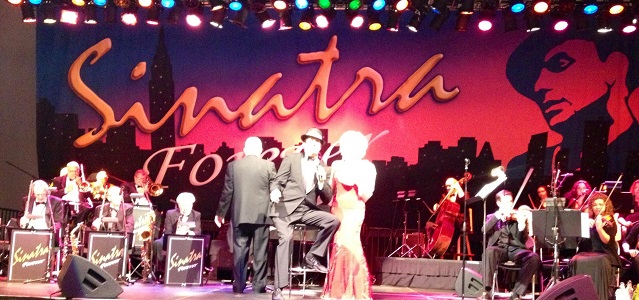 On Saturday, February 23rd, Rick Michel took the stage for the first time as a headlining act, flying solo at M Resort in Las Vegas. He performed "Sinatra Forever" for a huge crowd. And it was a huge hit! Together with his swingin' 24-piece orchestra, the group received three (count them, THREE) standing ovations. Rick himself called the night "magical." In fact, he might have been more surprised by anyone – the show broke records for the M Resort space by bringing in over 2,000 attendees.
But that wasn't the only surprise. Rick was blown away by the number of young people in the audience. "A 13-year-old came up to me afterwards and said she was the biggest Frank Sinatra fan," Rick said. "I told her that people like her will keep me working for a long time to come."
Other surprises include: a shining moment where a woman from the audience shouted for Rick to "Sammy Davis Jr.". He responded whole-heartedly by singing "Candy Man" and changing the lyrics to: "Who can make the sunrise/ sprinkle it with dew/ start out as a black man and end up as a Jew/ Sammy can…" The audience exploded with laughter!
Rick said that by far one of the best aspects of the February 23rd show was the 24-piece orchestra. "It is so rare to have that many instruments on one stage," he said. "I don't know of any show, except maybe Celine Dion, that has so many."
The band was great. The audience was great. The evening was great. And, more importantly, Rick Michel was a hit. So what are the big plans for this show? M Resort said they'd love an encore in the upcoming year, and several agents made inquires after the performance. You just never know…
One thing is clear to Rick: "My future looks bright with all the people who appreciate this kind of music."