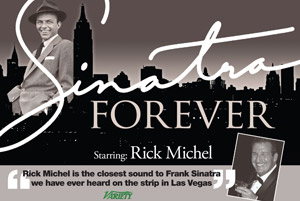 Frank Sinatra's 100th birthday year celebrations are continuing in full swing, as are my performances to honor The Chairman of the Board, and September 17th and 18th are very special dates because it will be the return of my Las Vegas show, Sinatra Forever, to the very place of its birth – Costa Rica.
 As I touched upon, Sinatra Forever is special because it really has two homes, Las Vegas and San Jose, Costa Rica. Since I am based in Las Vegas, the entertainment capital of the world, that connection is obvious, so I'd like to share why my show has a second home.
 In June of 2004 I was doing a Sinatra gig at Caesar's Palace when I was approached by William Munoz to play with his Philharmonic Orchestra of Costa Rica and in November of that same year I was in the National Theatre of Costa Rica doing a brand new show with their National Symphonic Orchestra – and that was only the beginning for Sinatra Forever.
 The elements for those first shows were magical. Opened in 1897, the National Theatre is majestic with its incredible statues and murals along with the exquisite décor – easily my favorite building in this nation's capital – combined with the artistic precision of the orchestra all set the literal stage for a historic event. I'm grateful to have had the foresight to commission a professional DVD/CD recording of the show. This box set has been enjoyed by many over the past decade and is still available at my shows and online for only $20.
 The National Symphonic Orchestra celebrates its 75th anniversary this year, meaning Frank would have been only 25 when it began. One of the wonderful things about this upcoming show is getting to play with so many of the original string and brass members from the first show – everyone's excited about that!
 Plus, I'll be bringing my Musical Director/Piano Player Greg Bosler (who played for Frank Sinatra), Drummer Mike Mechem (who plays for Dean Martin's daughter, Deana) and Tommy Porrello, Lead Trumpet who has played with everyone from Harry James, Elvis Presley and is, of course, one of Frank Sinatra's favorite trumpet players.
 And, here's a little inside information, we're looking at doing a 5-year tour, hitting Mexico City, Honduras, Panama, and many more Central American venues and Mexico's largest television station will be present for the Friday show to do a 4-camera shoot to promote it home.
 I'm excited and I hope you are too, but first, let's have a swingin' couple of nights in Costa Rica!