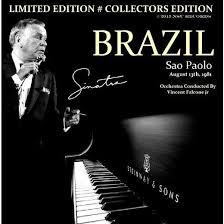 Frank Sinatra had a very real connection to Brazil.  Of course, he connected everywhere, but when you single out that sultry-hot, glistening South American country that's alive with music everywhere, you notice Ol' Blue Eyes seemed to think that place was pretty special.  Now, in the middle of my own Brazilian tour, I can attest to just how amazing Brazil is to perform in.
Surprisingly, Sinatra only did two appearances in Brazil and both were later in his career.  In 1980 he broke the Guinness World Record for the largest live audience for a single artist when 175,000 happy fans saw him in Rio de Janeiro.  He returned in 1981 to put on a few shows for only 700 lucky individuals just down the coast in São Paulo.
 On The Voice's 1958 album, Come Fly with Me, he sings the famous Brazilian song that's simply called "Brazil" in English.  After his recording, artists such as Bing Crosby and Paul Anka would cover it too.
 There's also the 1946 song Frank did called, The Coffee Song.  If you're familiar with the tune, you've probably just sung, "They've got an awful lot of coffee in Brazil," in your head!  And guess what?  While you may not get fined for drinking water in Brazil, as is stated in the lyrics, it's definitely the place to be for coffee fans.
 And the, of course, there's the 1967 album, Francis Albert Sinatra & Antônio Carlos Jobim, where he teams with the Brazilian bossa nova giant for a truly ground-breaking work.  You may remember that I wrote about this recently.
 Brazil has been spectacular.  The scenery is gorgeous and, just as with the coffee, the people drink up Sinatra's music as if it's an addiction.  Who can blame them?  I still have a couple shows left, then it's off to Chile!