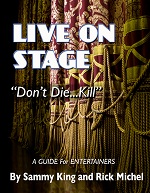 In addition to performing live, on stage - which happens to be my first love - I've found myself drawn to another calling over the years: passing on the knowledge my decades of experience in show business has sown by teaching others with an interest in being at the top of their game, be it in an actual entertainment setting or in this journey we call life.  I would have loved the opportunity to sit down with a successful, seasoned professional when I was starting out, so this has become a way to give back to the industry that has been my source of so much pleasure and to honor all those that have helped me over the years.
In 2009 my book, "Live On Stage… Don't Die, Kill," was published, reinforcing that desire to encourage a whole new group of burgeoning talents achieve their ultimate goal: success in whatever field they're drawn to.  The wonderful reception my recent Master Class at the Instituto Profesional Escuela Moderna de Música in Chile received confirmed I am on the right path.
Some of the key elements I've enjoyed teaching include vocalization exercises - someone like Sinatra was a master student himself and you can't expect to sound marketable without proper techniques and practice; how to handle yourself in front of an audience - experience is key, but wouldn't it be nice to get a head start?; what to do with the talents you have and polish them; the dos and don'ts of show business; marketing; and the really enjoyable part is to open myself up for questions, allowing me to get a feel for what young artists are specifically challenged with today.
The bottom line is that my 40-plus years of experience is of value to both up-and-coming performers as well as seasoned professionals that are looking to improve their stage presence.  And the kicker is that giving back to the craft that has given me so much is really good for the soul.  Join me some time!