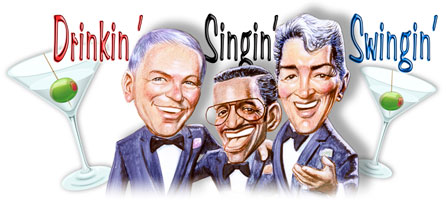 What's in a name? Cities usually take great care when assigning street names and having a road named after you is considered a monumental sign of respect. Although I once heard of a group of streets named after Disney's seven dwarfs and I'm not sure if I could bring myself to tell people I live on Dopey Lane. As the saying goes, there's always an exception to the rule. For me, streets named after celebrities stand out.
 I remembered reading an article about a push to change a local Las Vegas street name to honor Sammy Davis Jr., but checking Google maps, it doesn't seem as though the change took place. I'll have to drive out there and have a look myself. That would have been fantastic given that the street, presently donning the uninspiring moniker of Industrial Road, touches Frank Sinatra Drive and Dean Martin Drive. A potential Rat Pack reunion of sorts!
 There are currently Sammy Davis Jr. drives in Coyle, OK and Chicago, IL, so the singer isn't without recognition in this area, still it would be marvelous to see Sammy recognized for the contributions he gave toward building this world-class city.
 In addition to Las Vegas, Dean Martin has been memorialized in San Antonio, TX and in his hometown of Steubenville, OH. While Steubenville is obvious, I would love to learn the history behind the San Antonio naming.
 The Chairman of the Board's hometown of Hoboken, NJ has Frank Sinatra Drive gracing the waterfront along the Hudson River and you'll need to take this street to get to Sinatra Park. It's a huge honor, but no surprise the Mile Square City showed its respect for The Voice, so I want to know why there's a Sinatra Street in Sippy Downs, Australia! I hope someone is able to tell me if this street is named after Frank.
 And, please, let me know of any other Rat Pack streets around the world. But going back to Hoboken, Frank Sinatra was born on Monroe Street, so I like to imagine that was an early foreshadowing of his time with Marilyn.