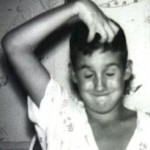 Everyone in show biz knows that Jewish comedians have the best  timing: look at Groucho Marx, Mel Brooks, Jackie Mason, Joey Bishop, Jerry Lewis, Phyllis Diller and Gilda Radner to name just a few. Comic impressionist Rick Michel came by his talent through similar genetics (he's a Russian Jew) and plenty of practice. He says he's been doing impressions since grammar school where he spent more time as the class clown-and in the principal's office-than as a student.
"I've been doing impressions of famous people for over fifty years. My mom took a picture of me in 1961 doing Stan Laurel. I got my first big professional break in the late '70s. I was at a comedy club in La Jolla and someone knew a producer who was casting for a dinner theater version of Grease. I cut my hair, shaved my mustache, and got the part of Roger, the mooning champ of Rydell High."
Michel's repertoire of impersonations is extensive. He covers comedians, cartoon characters, famous women, politicians, dialects and singers. "The toughest thing is the material. You can be spot on but you gotta have a punch line and set up something that shines. I like to put people in different situations. Like a bit that I wrote about John Wayne and Walter Brennan doing Broke Back Mountain. They're singing a duet of "You Don't Bring Me Flowers."
After a varied series of gigs from the West Coast to the East Coast, Michel began performing steadily on the Strip in 1981. He is currently on tour with his "Sinatra Forever" revue. Variety magazine once reported of Michel: "He is the closest thing to Frank Sinatra we have ever heard."
Michel was also a very convincing Dean Martin in "The Rat Pack is Back!" show in 2000 in the Congo Room of the now historic Sahara Hotel. "Dean was a funny guy. He was the Cary Grant of singers," said Michel. "Everyone wanted to be like Dean and every woman wanted him. But men weren't threatened (by him) because he was so cool. What a combination! He had this twinkle in his eyes. I just love Dean."
Sinatra proved to be more of a challenge for Michel. "I listen to him over and over. I write down the songs phonetically, just like Sinatra sang them. Dean and Frank are two different animals. Frank had the music and the arrangements and choice songs more so than Dean. I have a wish list of all the Sinatra songs I'd like to do. One I have right now is 'The House I Live In.' I don't even know where to put that."
But Michel does know where to put the timeless "My Way." It's his favorite song. "Regrets? I've had a few," he laughed. "In April of '83, I flew from San Diego to ASU to see Frank. I had a pass and was in the dressing room. His manager asked if I wanted to fly back to LA with them. I already had a ticket to San Diego that I didn't want to waste so I turned down a ride on the jet with Frank."
With a national tour upcoming and a production in Costa Rica on the table, there is one thing Michel plans to focus on. "I love sculpting. I'm committed in May to no traveling. I plan to clean up my man cave and get back into my artwork. Every place that I performed if I was settled in a town I would find a community college and sculpt in plaster and clay. I do my props, like the prosthetic nose for Bob Hope and the mouth gels for the Godfather."
So, there you have it: an impressionist who's passionate, not just about his work, but also about making long-lasting impressions out of clay and plaster to be cast in bronze.
"I don't take life too seriously," stated Michel. "I went to the school of hard knocks. In the big picture we're just a spit in the ocean. God blinks—and that's your life. I love what I do. It's not work, it's fun. And I'm still learning." – Christine McKellar
To learn more about Rick Michel and for sample audio clips and his current tour schedule, please visit: http://www.rickmichel.com/