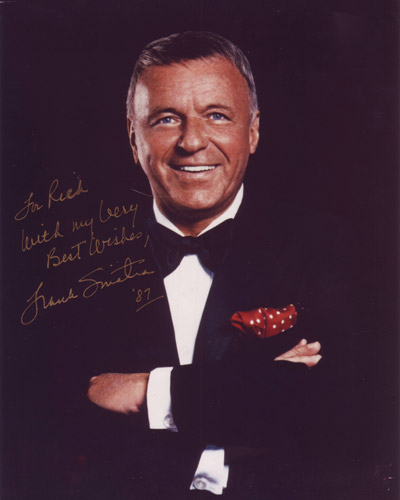 Performing for Frank Sinatra
Over the last three decades, Rick Michel has performed for thousands of audiences. He has impersonated everyone from President Kennedy to Elvis Presley. Michel has acted as the great Frank Sinatra more times than we can count. But what was going through Michel's head the first time he met the infamous singer?
"I was literally weak in the knees," Michel admitted in a recent email interview. The Sinatra impersonator has met the real Frank four times. Once was at the Bob Hope Celebrity Golf Classic Tournament. Rich Little, "The Man of a Thousand Voices," asked Michel to perform at the event for Bob Hope and Mr. and Mrs. Frank Sinatra. All three of the well-known figures sat front and center while Michel (nervous as he was) dazzled the crowd with his best impression of Hope. The performer sang a fantastic rendition of "Thanks for the Memories," Bob Hope's theme song, while the Les Brown Orchestra backed up his vocals. After Rich Little offered his incredible impression of the late Bing Crosby, the crowd agreed that the entire performance was a roaring success.
"You were marvelous," Sinatra told Michel after the event. Bob Hope agreed that the impression was uncannily accurate.
That wasn't the only surprise for Michel along the way. Once, the impressionist had the opportunity to watch Sinatra himself perform. Michel stood in the wings of the Golden Nugget stage in Atlantic City. "I watched his entire performance," Michel remembers. "I could feel the orchestra as if I were on stage with him only a few feet away."
Michel is well known for his impressions of the great performer in "Sinatra Forever: A Tribute to Frank Sinatra," as well as his work on "Frank and Dean Together Again" and "Drinkin'-Singin'-Swingin'-Salute to Frank Sinatra-Sammy Davis Jr.-Dean Martin." Why the emphasis on Frank's life?
"His body of work was been a big inspiration," Michel says. "All the songs and the way he interpreted each and every word as if he lived every line in each song. He made them his own and that's what makes him unique."
Check out the show schedule page on Michel's website for all upcoming performances: http://www.rickmichel.com/shows/
You can see all the buzz for yourself!