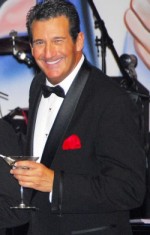 We've written several times about Rick Michel's multiple careers. He's a producer. He's a writer. He's a performer. He's a comedian. But with his upcoming show at M Resort, he's combining all of those aspects. In "Sinatra Forever" on February 23rd, you'll be able to see all the faces of Rick Michel rolled into one: producer-writer-performer-comedian. Not to mention it's his first show headlining! At a high profile Las Vegas casino. You won't want to miss this!
At M Resort, audiences will get to see what Rick is like running his own show. He'll be the same top-notch performer with that stellar voice, but he got to really craft this show to be his own. He's even written new material for "Sinatra Forever" – and did we mention he recently wrote his own book about show business, too? LIVE ON STAGE…Don't Die…Kill is a collection of tips and stories from Rick himself, as well as his performance buddy, Sammy King. What better way to celebrate Rick as a performer than reading the book and seeing the show?
Rick is a seasoned performer who's been on stage for over three decades. He's about to showcase his full range of artistic abilities in one fell swoop, and pay tribute to one of his all-time favorite singers. A singer who has made Rick admittedly "weak in the knees" when Michel performed for him several years back. The one and only Frank Sinatra.
So come join us. Grab a copy of the book and snag a seat at M Resort. This is going to be a great month!