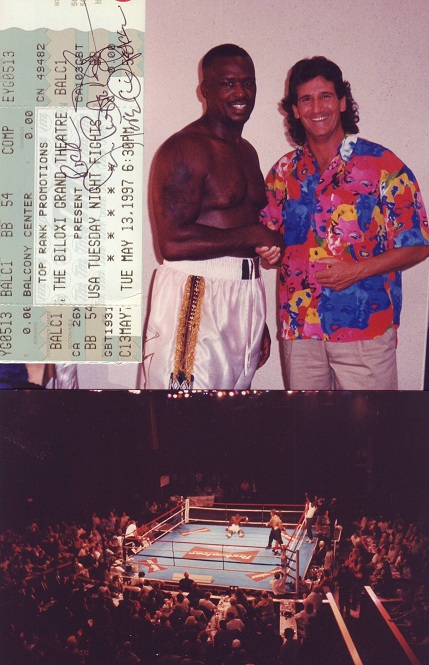 To continue with the recent blog posts, we're going into detail to describe yet another one of Rick Michel's celebrity "Wish List" moments from the past.
As most of you may know, Buster Douglas is a man who went down in history as the first guy to knock out famed boxer, Mike Tyson, in 1990. Before his match with Douglas, Tyson had been undefeated and ready for a challenge; afterwards, Douglas was the reigning champ.
Michel was with the boxing Heavyweight Champion a few years back in Mississippi. Douglas was one of the featured boxers in the evening's fight. Both Michel and Douglas were sharing a dressing room (the former for a singing performance, and the latter for a sweaty boxing match; both men were to be entertaining hundreds of folks center stage). Michel was one of many in Douglas' audience, and was one of the many to see Douglas get knocked down in Round One! The big, beefy boxer almost got knocked unconscious as he was lying on the ground against the ropes. Michel, as always, snapped a quick photograph. The referees that evening ended the fight due to a disqualification.
Fifteen minutes later, Michel went back to the shared dressing room to find Douglas still cooling down from his match. The singer introduced himself and asked the boxer to sign his ticket from the fight. And Buster Douglas – the big, lean, heavyweight champion who ended Mike Tyson's winning streak – did, in fact, sign the picture. With a big smiley face! What a fantastic evening for all.