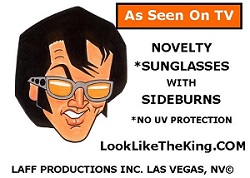 Remember those funky glasses that helped me bring the essence of Elvis to life on Baywatch? Now "Look Like the King" is going global! These Presley inspired novelties are such a deliciously fun item we've decided to make them available everywhere we can by setting up a booth at the ASD Market Week trade show at the Las Vegas Convention Center March 1-4, 2015.
 ASD Market Week is huge – nine shows in one location with more than 2,800 vendors showing off their best "home run" products to buyers from all over the world. There are 88 countries being represented at the show.
 A show this big can be intimidating for some first time attendees, but living in Las Vegas, we are lucky to have the home field advantage since just getting around a city as large as Vegas when you're not used to it can be an adventure in itself. Of course, for most, exploring this city is a wickedly fun adventure, but when the success of your product is on the line, you don't want to be lost in traffic somewhere. Just looking at the ASD floor plan is reminiscent of looking at a city grid!
 Leslie Gregory and Dennis Fowler will be looking after the booth most of the time, taking orders and arranging delivery and I have to thank everyone who have enjoyed my Las Vegas shows because it has been your feedback and encouragement that pointed out that this little item packs a knockout punch of fun.
 I've already been told my "Look Like the King" glasses have been big hits at costume parties, corporate ice-breakers, and in Elvis fan clubs and soon they should be readily available for Halloween, gift-giving, or any other time you want to bring out your inner King.