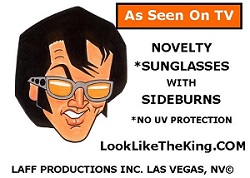 Who wouldn't want to be a king? If you were growing up in the '50s, you would specifically want to be "the King," and I know everyone reading this already knows to whom I'm referring.
The date that would have marked Elvis Presley's 80th birthday just passed and despite all he accomplished on his way to becoming one of the few true American legends, his life has to be looked upon as a tragedy because of the addiction that engulfed him and ultimately ended his life at a mere 42.
He's remembered with reverence and loved by almost everyone because of the magnitude of his life – he lived large. His talents were huge, his generosity was legendary, and he subsisted with gusto – everyone knew he didn't do anything small, just look at his home, Graceland.
He is also cloaked in mystery, living as privately as an icon could, showing the qualities of someone introverted at times – he was a shy kid, even missing his first scheduled performance due to stage fright – yet he was able to project emotion into his songs, something that allowed him to stand out from everyone else trying to procure a record deal in 1950s Nashville.
That emotion, with his unique vocal and on stage style, was key to his success – but let's face it, he didn't look half bad either. The sexy, sultry huskiness in his voice, combined with his looks, charisma and the gyrating hips made him irresistible to the ladies and that's exactly why any guy would have wanted to be him – and now you can!
I came up with these Look Like the King sunglasses as a fun way to honor a legend. Of course, as part of my repertoire of impersonations, props are a sort of trademark for me, but these glasses did the job so well for me when I was on Baywatch I wanted them to be available to everyone. Already they can be found at Gamblers General Store in Las Vegas and we're working hard to get them everywhere.
 I know they'll be a big hit with Elvis fan clubs, costume parties, corporate ice-breakers and with anyone, young or old, who just wants to "Look Like the King."