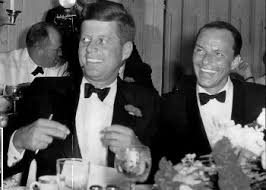 President John Kennedy has been in the spotlight recently because the 100th anniversary of his birth happened May 29th.  PBS just aired JFK: The Lost Inaugural Gala, highlighting all the stars that came out to usher in our new president and a new era - all under the leadership of Frank Sinatra, who worked tirelessly to support a leader he believed in.  Frank's influence undoubtedly helped Kennedy's presidential victory.
With the mention of JFK and Sinatra, old-school fans will undoubtedly think of Peter Lawford.  Lawford, who's often referred to as the least talented Rat Pack member, was the bother-in-law of Kennedy and had an odd knack for making bad decisions that would make Frank mad at him - that and drug use, which Ol' Blue Eyes wasn't a fan of, a topic that would even create a chasm in The Voice's friendship with Sammy.
Peter was born into British aristocracy and led a rather sheltered life growing up.  Still, his family was poor and his mother eventually brought him to Hollywood for a career in the arts.  He exuded class which, along with his good looks, gave him a place in the movies.  He was the handsome English gentleman and that role gained him admittance into the Rat Pack too.
Lawford's poor choices and drug use caused him a lot of problems as time progressed and eventually led to an early grave - he died at the age of 61 on Christmas Eve in 1984.  Now many seem to wonder why he was such a core part of the uber-cool, popular, and talented Rat Pack.
This really hammers home the difference between a star and a legend; the Rat Pack was dominated by icons such as Sinatra, Martin, and Davis, Jr., but as the years go by, younger people start to wonder about what people like Lawford and even Bishop brought to the table.  For Peter, was it as simple as his connection to JFK or was there something else that seems to have been forgotten.
Whatever the answer, if you missed the inaugural ball on PBS, watch for a repeat some day.  It's a piece of history made special thanks to Sinatra's involvement.