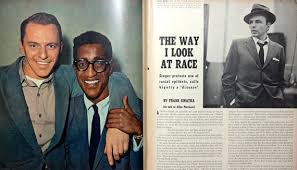 I've written about Frank Sinatra's work to end racism before and it's important to acknowledge it, but there are little things that sometimes go unmentioned, yet weren't at all little to friends like Sammy Davis, Jr.  The most obvious thing noticed is the fact that Sammy is always treated as an equal.  That part was easy for men like Frank Sinatra and Dean Martin because all they saw from each other was a talented friendship.  Ol' Blue Eyes even said in a 1958 Ebony magazine article, "A friend to me has no race, no class and belongs to no minority. My friendships are formed out of affection, mutual respect and a feeling of having something in common. These are eternal values that cannot be classified."
The Rat Pack demanded equal treatment for band members and patrons, refusing to perform in clubs that still practiced segregation.  Music and entertainment became a way to express and create equality when they performed.  Whether they knew it at the time or not, the Rat Pack spent their lives using their abilities to bring people together instead of dividing them and this practice is just as important now as it was then.  The world needs another Rat Pack on the stage.
I hope you'll be in to see me and the other marvelous entertainers involved in the Sammy's Showroom 50th Anniversary Celebration.  We've just started and already we can feel the magic!