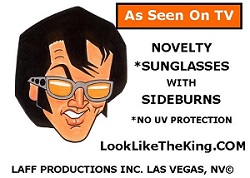 Elvis Presley was one of those American icons that shaped the very fabric of our country, be it the music, the films, fashion, and the behavior of our young people, just as Frank Sinatra did it before him.  And even though Frank wasn't a rock and roll fan, he clearly saw something worthwhile in Elvis, featuring him on his Timex Show titled, "Welcome Home Elvis" after he returned from the army.  Now, the 40th anniversary of The King's death is nearly upon us, so here's a snapshot of the style that came to be recognized around the world.
Elvis seemed perfect; every guy wanted to be him and every girl seemed to want to be with him, which is just the combination of passion that makes an icon.  He grew rock and roll to an unstoppable force while swinging and shaking his hips, eliciting a response that made the establishment fear for the safety of the morals of our young people.  Everything was just right, from the hair and the boyish good looks to the clothes that were the exact mix of bad boy and choir boy.
Of course, that's a lot of pressure for anyone and prescription drugs got the better of him and despite his attempts to save himself - marriage, karate - he wasn't able to survive his demons.
It's his '70s Vegas-era style that many remember, sometimes unfavorably, but the bedazzled jumpsuits that evolved with his fascination with karate are what we often picture when we think about Elvis on stage.  And the sunglasses.  You can't have an Elvis costume without those unmistakable glasses.
In fact, a project by Priscilla Presley called "Shades of Elvis" became something very emotional for many top celebrities.  Stars such as Cher, Johnny Depp, Sir Elton John, and 74 others put on the original pair of Elvis sunglasses and were photographed.  Michael Bublé said, "When I put the glasses on it was surreal. You can't help but channel your inner Elvis."
I believe it.  I had to do my own Elvis-channeling when I appeared on Baywatch wearing my Look Like the King glasses and there is something about putting them on and envisioning yourself as The King himself that turns you into someone more confident.  I've even witnessed it on stage teaching audience members to "Look Like the King;" it's like striking a Superman pose when you need a confidence boost, Elvis glasses are a fun way to make you feel like a king.
Please visit: www.LookLikeTheKing.com
There's a good chance you remember where you were when you heard about Elvis' death August 16, 1977; it's awfully difficult to believe it's been four decades, but thankfully, especially through his music and the memories we possess, he left a legacy of which most can only dream.