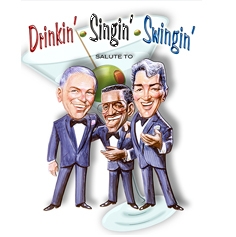 For many theatergoers, attending a performance is about one main event either a really good play or a fantastic musician. Rarely do audiences get to enjoy the talents of three incredible and unique acts on one stage. "Drinkin'-Singin'-Swingin' Salute to Frank Sinatra – Sammy Davis Jr. – Dean Martin" is just that.
DSS features the musical glory of Frank Sinatra, Sammy Davis, Jr., and Dean Martin Three talented impressionists (Ryan Baker, Bryan Clark and Rick Michel, respectively) give audiences a glimpse of what the three musical icons used to be like together onstage. The men joke with one another, sing, swap stories, and pal around. Throughout the show, audiences enjoy old time favorites like "New York, New York," "Mr. Bo Jangles" and "That's Amore'". Baker, Clark and Michel do impressions that have never been impersonated, and songs that have never been sung. The men interact in the ways that Sinatra, Davis and Martin might do so in 2012.
Theatergoers also get an added bonus: a few compilation medleys featuring tunes by other late great performers like Ray Charles, Michael Jackson, Tom Jones and Stevie Wonder. (Basically, if you like good music, you'll love this show.)
In 2008, Baker, Clark and Michel came together to woo audiences. All three men come from backgrounds in impressions and show biz. Outside of DSS, the three performers have spent time in the limelight in various mediums around the world. Among other talents, Baker was one of the original performers in the tribute show "Shades of Sinatra"; Michel has been on stages all over Las Vegas and beyond for the past thirty years, and co-wrote a book about performing in 2009 with Sammy King called Live On Stage – Don't Die…Kill!; Clark can be seen in "The Great American Song Book," a lively show with a big band.
Speaking of bands, hearing the big sounds from the DSS is reason enough to attend. Many folks in the band have even played with Sinatra, Davis and Martin at one point. Stay tuned for future blog posts on that…
In the meantime, check out the show. Patrons can expect three great performers, big band music, a few classy cocktails, and a delightful trip down musical memory lane.
Visit: www.SinatraDavisMartin.com