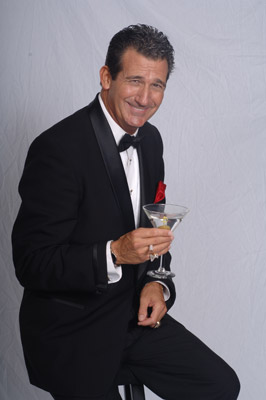 Dean Martin, legendary entertainer and member of The Rat Pack, was born in Steubenville, Ohio in 1917. His nicknames include: Kid Crochet, The King of Cool, Dino Martini, and Dino. His birth name was actually Dino Paul Crocetti, a name that traces his first-generation Italian-American roots. Much like his colleague and friend, Frank Sinatra, Dean Martin started his career by performing in his childhood town.
Martin was acquainted with gambling culture early in his life, working as a bookie and lottery ticket salesman in illegal gambling establishments. The Ernie McKay Orchestra scooped him up in the 1930s, encouraging Martin to sing on stage. McKay pressed the youth to take up the moniker "Dino Martini." His next mentor was musician Sammy Watkins, who reshaped Dean's public persona into "Dean Martin."
Like fellow Rat Pack member Sammy Davis Jr., Martin experienced life within the U.S. Army during World War II. Military themes would later resurface in Martin's life, during his comedic role in the 1950 film, "At War with the Army." Martin and co-star Jerry Lewis poke fun at Army training camps in this musical performance.
As a solo musician, Dean Martin's signature croon appealed to fans of Bing Crosby. He signed on with MCA in the early 1940s, with hits broadcast across the radio in New York City. As his career began to grow, it took a monumental leap in 1946. This was when Dean Martin met Jerry Lewis for the first time at the Glass Hat Club.
The two became inseparable, performing comedy shows together for a decade, gaining fame first across the East Coast, and then around the world. Martin continued to hone his career as a solo musician, falling in with members of The Rat Pack in Las Vegas during the late 50s. The rest is history – Martin would move onto film, television, and stage stardom with this charismatic group. Rick Michel pays homage to Dean Martin during his Drinkin' Singin' Swingin' and Frank and Dean Together Again shows. Keep an eye out for these fun and innovative performances!