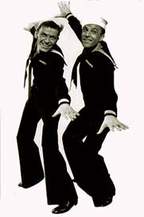 Entering their nineteenth season, ABC's" Dancing with the Stars" remains a guilty little bit of reality television for many. As Alfonso Ribeiro, Lea Thompson, Tommy Chong and the rest of the participants expose themselves to potential accolades and ridicule I can't help but wonder how Frank Sinatra would have faired dancing on such a program.
Firstly, I recognize that DWTS (the acronym used by its fans) doesn't attract anyone with the star-power in Frank's league, so I have to really stretch my imagination on this one and ask you to follow my lead. In actuality, many of the dancers on the show have become bigger celebrities than many of the contestants.
 Sinatra's preparation for the 1945 film, "Anchors Away", likely tells the story of his potential success or failure as a competitive dancer. In the movie, Frank has to dance with the spectacular Gene Kelly and you can't fake a dance number in a musical without looking silly. In the book Sinatra: The Life, "The Voice" is quoted as saying, "I couldn't walk, let alone dance. I was a guy who got up and hung on to a microphone …. And one of the reasons I became a 'star' was Gene Kelly." Kelly said Frank went "from lousy to adequate" by working harder than anyone he had ever known. Anyone that can work hard enough to keep up with Gene Kelly has a good chance of out-dancing anyone.
 Hard work coupled with an interest in what you are doing is usually an insurmountable combination and, if the titles of some of Sinatra's albums are any indication, the man loved dance. His sixth studio album was called "Sing and Dance with Frank Sinatra". In 1959 he released a collection called "Come Dance with Me"!
 Another interesting, albeit obvious, aspect is the show's use of Sinatra's music in the routines. Stars such as Randy Couture, Charlie White, Ty Murray, Elizabeth Berkley, Ingo Rademacher, Jaleel White and more have danced to a Frank Sinatra tune on DWTS. What could be more perfect?
 Frank Sinatra, big band music, and "Dancing with the Stars" are a perfect fit. I have no doubt that had "The Chairman of the Board" ever committed to such a show, he would have killed and whoever had been paired with him would have been one lucky dancer likely sporting a Mirror Ball after the confetti settled!