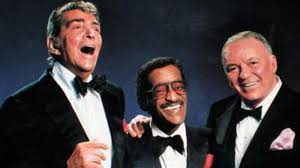 Do any of you watch Dancing with the Stars?  While the majority of the contestants are not trained dancers, it's interesting that once they're teamed up with a professional, they seem to turn into little Freds and Gingers.  Well, some of them do.  Others maybe should have stayed at home.  Still, you have to give anyone willing to try something new in front of millions a well-deserved hand.  I have no doubt any of the Rat Pack, had this show been around, would have worked their wonders on DWTS at any age, but I like to picture the three of them as the judges.  Here's a sampling of the latest season with Frank Sinatra, Dean Martin, and Sammy Davis, Jr. doling out their expertise.
Tell me Frank, who's the early favorite?  Well, I was really pulling for Charo, great girl, so much energy.  Too bad she had to cash out early; her partner was a bum.  That Simone sure can tumble, but my dough's on Normani and Val.  Rashad's a big-leaguer too, it's just a matter of whether he brought his 18-karat game or not.  Whatever you do, don't drop any bills on that Bachelor guy; it'll be splitsville for him soon.
Sammy, anyone catching your eye?  Hey man, Olympians are definitely tough to ignore; that Nancy can groove, but you have to wonder if she can keep it together should it ever rain.  And I don't think little Simone or Sasha are heading to scramsville anytime soon.  Still, don't ignore that Erika, she's a tomato that doesn't know the meaning of the word "failure" and I have a feeling she's going to show us she can really swing.
Hey Dino, and punks or players in the group?  Well, pally, other than Rashad, it's mostly        Harvey's from what I see, yet looking at the gals, the situation is a gas.  But, just as Charley said, Normani may have already locked up a third Mirror Ball for Val.
Honestly, I can't think of three guys more suitable for Dancing with the Stars, whether showing off on the dance floor or handing out scores to the contestants, Frank, Dean, and Sammy would have made the show unforgettable.  I can see this as a killer skit on Saturday Night Live.  Who's your money on?