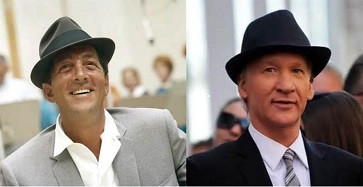 A top comedian has to stay fresh, cool, fast, and current – in other words, he or she needs to be smart. When you're blunt, controversial, liberal, and self-described "politically incorrect," being smart is even more important because you're going to have a lot of people gunning for you. This is Bill Maher and I've found a few observations about how he keeps his A-game rather interesting.
 Many seemed surprised Maher listed Dean Martin as an influence in his comedic career, but knowing Martin as the cool, levelheaded, consistent performer he was, it makes perfect sense to model yourself in that way. Maher said Martin was his inspiration to be "the same on screen and off." Maher also said Martin "just had this incredibly loose way of doing his show."
 Dino had an innate knack of enamoring himself to the public as a sort of down-to-earth icon with the same flaws so many of his fans possessed when, in fact, he was very private and many of his foibles that were so lauded by the press weren't even accurate. A smart performer recognizes attributes in others and has the ability to adapt them to their own needs.
 The Rat Pack were synonymous with hip and cool, so if you're looking for the same characteristics, do what they did and how they did it. Even when placed on stage with the multi-talented Seth MacFarlane the two chose Sinatra to cover with their song, with a rendition of Star. Although I'd advise that Maher should probably stick to comedy instead of taking up a career as a vocalist.
 Maher even made Las Vegas his place to perform. When speaking about this, he couldn't help but mention Rat Packers again saying, "I love the fact that Vegas seems to be returning to actual old-school entertainment: people as opposed to f****** dolphins and that kind of stuff. When I was first in Las Vegas, you could see a person at every hotel—Frank Sinatra, Sammy Davis Jr., Buddy Hackett, Shecky Greene. I feel like we're getting back to humans, human entertainment. I hope it's a trend."
 Regarding Vegas, he even commented on how the city climbed to its peak, then the Rat Pack ended and the city declined until reinventing itself with the "What happens in Vegas, stays in Vegas" motto, which is really just a take of the approach the Rat Pack utilized here.
 It doesn't matter if everyone likes you, but you better know your stuff and for those times when you may be bluffing, you better look cool and confident doing so. You can't look any more confident than by emulating Rat Pack cool and Bill Maher knows this.