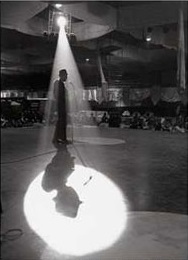 When the title "song and dance man" is mentioned, Frank Sinatra isn't necessarily a name that's usually placed on the list of performers in that category. His Rat Pack peer, Sammy Davis, Jr. would certainly be there, along with the likes of Fred Astaire and Gene Kelly, but Frank, despite holding his own with Kelly in "Anchors Aweigh," isn't always recognized for that triple threat status – excelling at singing, acting, and dancing. Nevertheless, he has been an important factor in the dance community.
 A Presidential Inauguration is a big deal. Sinatra not only performed frequently, but has produced the event for more than one president, and at Ronald Reagan's 1985 event a special, in the "breathtakingly beautiful" sense of the word, performance took place with Frank crooning while the great Mikhail Baryshnikov and Elaine Kudo danced Twyla Tharp's "Sinatra Suite."
 Tharp seems to have a sort of love affair with Sinatra's music. She first danced to one of Frank's songs in 1976 with Baryshnikov and although the choreography wasn't particularly well received, Baryshnikov liked what he saw enough to want to work with her again. "Sinatra Suite" was created in 1984, following up on another Chairman of the Board inspired routine titled "Nine Sinatra Songs" from 1982.
 Frank seemed to appreciate this admiration since he once told her, "You give me class." He also told her that he wanted to be a dancer, to which she responded, "Well, you know, Frank, you danced awfully good in the movies. Actually you are a dancer."
 Then in 2010 Tharp's dance review "Come Fly Away" opened on Broadway. In it, Frank's voice is paired with live musicians while the dancers perform her choreography. Nancy Sinatra compared it to being at her father's concert and stated, "I told Twyla that she is the keeper of this flame right now."
 You may recall an earlier blog post where I talk about Frank on "Dancing with the Stars," so his abilities are not news to me and I do believe he could very well have been an exceptional dancer.