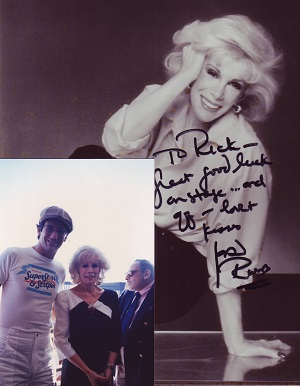 The world has lost a second comedy legend in less than a month with the passing of Joan Rivers. She was a talented comedian who worked very hard to become as successful as she did, bravely ruffling a few feathers and making a few enemies along the way, but nobody can deny her talent or her work ethic.
 I had a connection to Joan in that I had the privilege of meeting her on two occasions. I believe the first was in 1987 in Atlantic City where she signed a photo and posed for a picture with her husband, Edgar Rosenberg. She was very gracious and I distinctly recall the pain I felt hearing the news of Edgar's suicide in Philadelphia just two weeks later.
 The second meeting came 1997 when she was opening for Don Rickles. The laughs backstage are something I'll always treasure, as well as being the reason I never had my photograph taken with her this occasion, since Don was needling her about her recent face peel, begging her not to go on stage with the redness so bad. Just picture Don and Joan in character and you'll understand why this would have been so funny.
 Another hard-working comedian, Kathy Griffin, told about the difference in seeing Rivers on stage late career and seeing The Voice saying, "I remember seeing Frank Sinatra in his final years of performing, and you could tell that just the presence of the legend went a long way." Joan couldn't rely solely on her presence, adding that, at 81, she was a woman "on a mission to make you laugh."
 Also, regarding Frank, Rivers had said, "I once was talking to Frank Sinatra and he pointed to a stage in Las Vegas and he said, 'That's my house.' And I understood." Anyone who gets and feels that innate need and who has spent their life working to achieve it is all right in my book.
 She was a wonderful, kind lady and I will miss her.