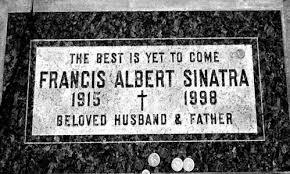 On May 14th, 1998 Frank Sinatra died.  Even with the knowledge that his health was in decline, the news came as a shock because no one ever wants to consider the unthinkable – a world without an icon – until they're forced.  In Las Vegas, the city he built into a world-class entertainment destination, the lights dimmed and the casino wheels stopped spinning.  In New York that evening, the Empire State Building lights were turned blue.  Other tributes, both large and individual, took place all over the world.
2016 has been a particularly rough year for music fans; no matter what genre your favorite happens to be, it seems we've lost someone significant.  David Bowie continuously reinvented himself into legendary status; Prince was unparalleled in everything he did; country music lost their own legend with Merle Haggard; heavy metal mourned a Jack Daniels drinking Lemmy Kilmister; and the losses of Natalie Cole, Glenn Frey, and Maurice White were huge.  The list seems never-ending.
There will definitely be some magic happening this Saturday at the Luhrs Center in Shippensburg, PA.  This is a gem of a modern performance venue that was thoughtfully executed to provide space to learn in addition to a premier facility in which to play.  It is a jewel of a building that any community would be proud to call their own – and Ol' Blue Eyes would have certainly enjoyed putting on a show or two.  I hope you can make it there to see what will undoubtedly be a Sinatra Forever performance to remember.