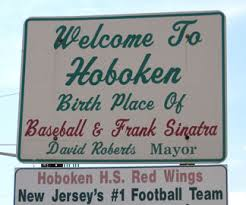 The Mile Square City is a marvelous blue-collar happening place with the best views of New York City anywhere and a fantastic spot to visit, especially for any fan of The Voice. In my guide to Sinatra's New York, I mentioned how much I love to visit his old haunts when I travel and they literally don't get any older than Hoboken.
Naturally, you need to begin where Frank was born, 415 Monroe Street. The house was torn down in 1970, but you'll know you're in the right place when you see the bronze sidewalk star commemorating the spot. It's really a must-see place this year, since everything began here exactly 100 years ago.
Whatever you do, visit the Hoboken Historical Museum and get a copy of their self-guided Frank Sinatra walking tour. That map covers everything big and small, after all, they're the experts on their home turf.
Visit the homes of his relatives, the church in which he was baptized, the location of Marty O'Brien's, the family bar, places where he sang, worked, went to school and hung out. The map is something that'll easily fill a day, basking in all things Sinatra as you reflect upon those truly formative years.
One restaurant has become a piece of history in Hoboken – Leo's Grandevous. It captures the essence of the neighborhood and was a special place to Frank. A sit-down here, while listening to Ol' Blue Eyes in the background, is a must.
Remember, this city is Frank's place and there are tributes and monuments coming and going regularly. Just this week a new Sinatra-themed Italian eatery made the news at 525 Sinatra Drive called Blue Eyes Restaurant. It's not exclusively Sinatra, but when you can see other prominent blue eyes looking at you, like Marilyn Monroe, who can complain?
There are bound to be big happenings during this 100th birthday year celebration and if I wasn't so busy with my own Sinatra shows, I'd be in Hoboken!