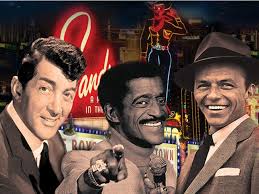 Every day spent living this crazy life with my wonderful wife Leslie is a gift; Valentine's Day makes me realize this, of course, so this post is to serve as a gift for every Rat Pack fan out there - a trio of sure-fire tunes to put some heat in this often-cold February day, plus a bonus.
I'll start with Sammy Davis, Jr. who wasn't quite a crooner like Frank or Dean, but he could swing and just a glance at his own life reveals his desire for love like he seemed to have found with May Britt.  The world at that time didn't make it easy for the two, but you could see the love they had for each other every time they were together.  A real gem of a song Sammy did was his cover of This Guy's in Love With You; each time I hear it I can't believe it wasn't written especially for him.
For Dean Martin I have to go with one of his signature songs, You're Nobody till Somebody Loves You.  It spent nine weeks in the Billboard Hot 100 and combines enough of Dino's patented swagger, playfulness, and ease to make any listener happy.
It's difficult to choose a Sinatra song only because there's so many.  Johnny Carson famously asked Frank one night on the Tonight Show, "When you're in a romantic mood, and you want to make out, whose records do you put on?"  When you want to set the mood, a Sinatra album is the obvious choice, but the one song that I reach for before I turn the lights down low is It Had to be You.
In 1947 there was a film by that name, the song is that powerful; it was played in Casablanca, as well as Annie Hall in 1977, and was even the theme of When Harry Met Sally… in 1989.  The song is timeless.
Of course, I have my own sort of Valentine's tribute to my wife that I called, Witness to My Journey.  It's my eternal gift to her and to everyone that really appreciates a love story like I do.  Have a wonderful Valentine's Day!