Blog
Frank Sinatra Always Played the Loyalty Card
01/17/2014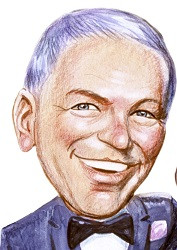 There are many adjectives that come to mind when describing the legendary Frank Sinatra, but there's one significant word that truly envelopes the very essence of the man – loyalty.
 In an article propounding the importance of Sinatra in the rise of Las Vegas as a world-class entertainment venue, it's stated that The Voice's allegiance to the Sands was because the hotel stood with him through troubling times, which proved a vitally lucrative partnership for both.
 In a previous blog post, I illustrated how Patsy's Italian Restaurant in New York City and Frank reciprocated respect for each other during up and down times and the importance of such behavior for the star. It's a fantastic story that illustrates perfectly how much he valued this trait.
 Tina Sinatra, Frank's youngest child, is even quoted through Chris Rojek's book, Frank Sinatra, as stating, "The great vein through Frank Sinatra is loyalty." Then in John Frayn Turner's book of the same name, the author says, "One of the qualities that Sinatra valued most highly was loyalty," proceeding to relate a story from comedian Jack E. Leonard telling how this attribute helped him personally as he struggled through tough moments in his life.
 In Timothy Keiningham's book, Why Loyalty Matters: The Groundbreaking Approach to Rediscovering Happiness, Meaning and Lasting Fulfillment in Your Life and Work, the author postulates that the celebrity's attachment to loyalty may have saved the life of fellow Rat Pack member, Sammy Davis Jr. at a time when Davis Jr. was mired in drug use.
 In a front page People magazine article from February 2, 1981, the publication talks about a respectable, "cleaned up" Sinatra who values and returns the loyalty of President Ronald Reagan.
 The examples seem endless! Loyalty is something that The Chairman of the Board looked for and expected from others close to him. It aided his career and life in both good times and bad. Myself, I take pride in recognizing this and utilizing it as a powerful lesson in how to treat others as I go forward with my personal and professional life and I have little doubt that this philosophy could help you too.
What's your take on this subject?